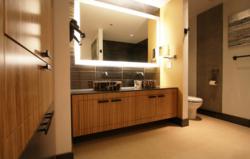 Portland, OR (PRWEB) April 27, 2012
Since purchasing her condominium unit at The Gregory when the Portland building first opened a decade ago, professional tattoo artist and art collector Mary Jane wanted to remodel the unit's two nondescript bathrooms. One day in late 2011 she visited the Retail Studio, a collaborative space between Portland builder and remodeler Hammer & Hand and interior designer Bright DesignLab located around the corner from The Gregory in Portland's Pearl District. She dropped off a folder full of design ideas and let the team get to work on her condo bathroom remodel project.
"The client's aesthetic is full of warmth and playfulness," said Christopher "Coop" Cooper, project supervisor with Hammer & Hand. "So our job was to infuse the project with those qualities, within a context of modernity and elegance."
A mini-boom in condo remodeling is underway in Portland's Pearl District, thanks in part to the maturation of the building stock there, as well as a trend among residents to stay put and avoid the vagaries of the current real estate market.
Some residents who might have chosen five years ago to sell their existing condominium unit and upgrade to a nicer one are now reinvesting in their current homes. This trend can be good for existing units and existing buildings.
"Mary Jane has completely transformed the quality of her condo's bathrooms," said Coop. "What once were generic, even mundane, spaces have become rooms full of texture, contrast, and personality."
The remodeled bathrooms in Mary Jane's condominium unit feature:

?Custom zebra wood and maple cabinetry,

?Petrfied wood sink basins,

?A copper vessel sink,

?Assorted Ann Sacks tile,

?Soaking tub and steam bath with built-in aromatherapy and chromatherapy features,

?Selected pieces from the client's art collection.
All of these elements were carefully tied together and integrated into the high rise unit by the designers at Bright DesignLab.
"One of the interesting challenges of remodeling in high rise condos is the need to respond to the inherent structural elements that exist as givens' in these spaces," said Coop. "The designers did a great mixed media job that really comes together here."
More about Portland condo remodeling can be found by visiting Hammer & Hand's website at hammerandhand.com/condos.
About Hammer & Hand

Hammer & Hand is dedicated to stewardship of the built environment through craft and science, everything from traditional kitchen remodels to deep energy retrofits to modernist Passive House structures. Based in Portland, Oregon, the remodeler and builder can be reached at http://hammerandhand.com or by phone at 503-232-2447.