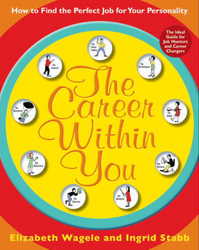 San Francisco, CA (PRWEB) May 3, 2010
In the age of technology, the expanding landscape of the working world is more complex than ever. This is both good and bad news for recent college grads that are now exposed to more career options than they might know what to do with. After four or more years in their chosen course of study, many graduates find themselves at a loss when facing the decision of how to apply their degree, their skills and their personality to an actual career. How do you break the post-college, decision paralysis so many students experience?
Most career advice follow the one-size-fits-all principle. THE CAREER WITHIN YOU (Harper One, January 2010, $ 14.99) celebrates the fact that each person looking for work guidance is different. Readers benefit from being led on an internal journey where they are introduced to nine distinct career types. Elements of each of these in varying amounts are within us, with one being predominant. By the end of the journey the reader will be able to make realistic appraisals of themselves from which to make superior career choices.
This practical-yet-fun career guide employs the Enneagram Personality Assessment System- with its very sizeable audience- to find a career specifically tailored to any reader, by offering a quiz designed to identify their type, and thus, the best career paths for them. In addition, this guide includes quizzes and interactive exercises to both help the reader identify their own strengths, and practical job-hunting tools to launch the perfect career.
About the Authors
Elizabeth Wagele is a foremost expert and one of the most popular writers on the Enneagram. Her published books include The Enneagram Made Easy, which has introduced over 140,000 enthusiasts to the Enneagram personality system and has been translated into 17 languages. Are You My Type, Am I Yours? also co-written with Renee Baron, centers on relationships, subtypes, look-alikes, and famous types. In addition she wrote The Enneagram of Parenting, is regular contributor to Enneagram Monthly, and is often featured at International Enneagram Association conferences. Visit the author online at http://www.wagele.com.
Ingrid Stabb is a Yale MBA and organizes career workshops and events. Stabb chairs the career development committee on the international Board of Directors of the Yale School of Management Alumni Association. In 2004 she co-founded a continuing summer internship program designed to introduce college students to various career tracks. Stabb writes the regular column on careers for TALK Journal, a trade journal for business coaches and psychologists who teach the Enneagram.
A marketing executive by profession, Stabb is Director of Internet Sales for Blue Shield of California. Winner of the E*TRADE Presidents Award, she has developed and marketed products for Fortune 500 companies such as E*TRADE Financial, Charles Schwab, and Thrivent Financial as well as a non-profit Russian adoption program for World Child. Most notably, Stabb developed and marketed the first SCORE! Educational Centers for kids, which was sold to the Washington Post in 1997; http://www.escore.com is now the second-largest network of learning centers in the country, with over 150 centers nationwide.
The Career Within You

How to Find the Perfect Job For Your Personality

By Elizabeth Wagele and Ingrid Stabb

January 2010, HarperOne, $ 14.99, trade paperback, ISBN 9780061718618
###
Find More Career Path Quiz Press Releases